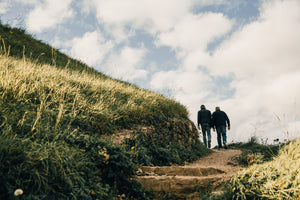 Trevor started professional dog walking in 2004 when dog walking as a business was in its infancy in the UK whilst his partner Roy, worked in the city.   Trevor would walk the dogs in the Royal Parks, Wormwood Scrubs, Hampstead Heath and Richmond Park.  
What started out as a one-man band steadily grew and in 2015 Roy gave up his job in the city to join the business and they rebranded it as DogDaddies.  Together they have built a highly professional and experienced team.
Following a long and extensive search for the perfect location, DogDaddies now have 5 acres of custom-built, securely fenced fields and day-care facilities just inside the M25.
With the experience gained over these 15 plus years, the award winning DogDaddies team offer a complete dog day-care experience and the very best service with the well-being of your dog at the heart of everything they do.
Trevor and Roy's years of experience in caring for dogs naturally led to the development of an online store housing a personally curated selection of products for dogs and their owners.  These are all products that the DogDaddies feel passionately about.  They have been thoroughly tested by the dogs in their care with the final approval given by their own dogs, Crumpet and Dumpling.