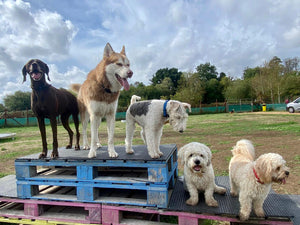 For a burst of country air and exercise
Our half day - day care not only ensure regular exercise, but also help your dog's
mental and physical stimulation and general wellbeing.
Rate £30 (excl of VAT)
For postcodes W2 and W11 only
There are times when you might find it impossible to give your dog the daily exercise and play time they need yet don't want your furry friend out of the house all day.  
Mental and physical stimulation is an important part of your dog's daily routine.  

Our Half Day Care service is the perfect solution as your dog will get plenty "off-the-lead time" running, playing and socialising at our 5 acres of securely fenced and private fields, all under the care and supervision of our highly experienced team. 
Itinerary

• Pick up between 10:30 and 11:30am

• Minimum 2 full hours of exercise, off lead play and socialising with other dogs 

• Home between 2:30 and 3:30pm
"Sandy aged 7 has had different dog walkers over the years but this is hands down her favourite! She loves heading off during the week and is knackered when she comes home, her mood all round is so much improved - Dog Daddies really is her happy place! I work long hours away from home and the team have made everything so easy to arrange and I really trust them to make sure Sandy is picked up and dropped off safely even though I'm not there."

HARRIET
Sandy
We understand you need to feel comfortable with your dogs carers so we make sure all our team are qualified and true dog lovers before they can look after your loved ones.

You can learn more about the team on our teams page.

add-ons
Training
In addition to the private puppy or dog training at your home we can now also offer training sessions whilst your puppy or dog is on day care or boarding with us. This will help those busy parents that do not always have the time to focus on training their puppy or dog, though we recommend this training in addition to the private home training. These training sessions at our day care premises will help to top up any home training and will speed up the process of getting a well behaved puppy or dog.

1 hour session £30
(excl of VAT)
Book your pup for half day care
Get in touch today and let's have a chat to see if Dog Daddies is right fit for your furry friend
For postcodes W2 and W11 only