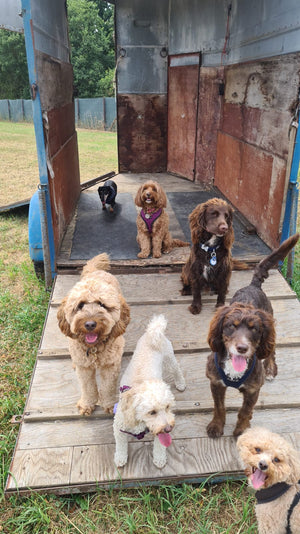 A great day out in the countryside
A friendly and welcoming home from home for your dog. Filled with love, play and care.
RATE £40 PER DAY
When less than 4 days per month. Excl VAT
RATE £37.50 PER DAY
When 4 or more days per month. Excl VAT
At our countryside day-care facility your dog will have 5 acres of private, securely fenced off fields to run around in, play with the other dogs, chase balls, and take part in any of the other activities we plan during the day.   
The dogs are always fully supervised by our experienced and trained team of loving dog carers.
When they've worn themselves out, the dogs can have a nap inside our cosy barn, or large covered pergola, where they can curl up on a comfy dog bed, or just lie on the lap of one of the DogDaddies Team.
Our air-conditioned vans have custom-fitted crates to ensure safe and comfortable transportation to our fully licenced day care premises which are just inside the M25.
Itinerary

• Pick up is between 8:30 and 9:30am
• Cosy barn, pergola and field shelters with dog beds accessible at all times for well-earned naps

• Home between 4:30 and 5:30pm
"The fabulous team at Dog Daddies have looked after my 3 dogs over the years, and I couldn't be more grateful. I've found them to be extremely professional, well-organised, caring and loving and am so thankful for all the amazing care and fun they've provided. My dogs have enjoyed summer pool parties, endless playing with other dogs during doggy daycare and overnight stays, long winter forest walks, cosy evenings on the sofa with the owners, and the team provide regular photo and video updates via their Instagram page."

NATALIE
We understand you need to feel comfortable with your dogs carers so we make sure all our team are qualified and true dog lovers before they can look after your loved ones.

You can learn more about the team on our teams page.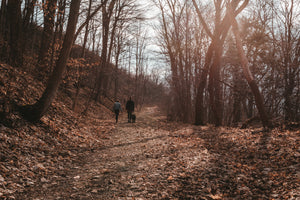 add-ons
Training
In addition to the private puppy or dog training at your home we can now also offer training sessions whilst your puppy or dog is on day care or boarding with us. This will help those busy parents that do not always have the time to focus on training their puppy or dog, though we recommend this training in addition to the private home training. These training sessions at our day care premises will help to top up any home training and will speed up the process of getting a well behaved puppy or dog.

1 hour session £30
(excl of VAT)
BOOK YOUR PUP FOR FULL DAY CARE
Get in touch today and let's have a chat to see if Dog Daddies is right fit for your furry friend