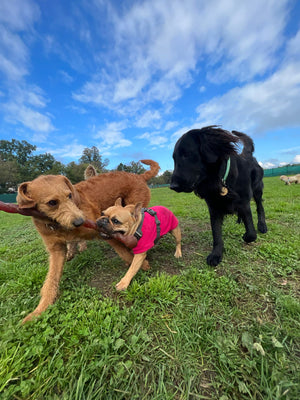 Helping you build habits of a lifetime
A great way to establish rules and relationships early.
4 week course £300
or Single training session £100
Getting a puppy is hugely exciting but it can be hard work, so professional guidance and training will help you understand your puppy's needs, read its behaviour, and will ensure that your pup grows into a happy, well-balanced and sociable dog. 

Our private, individual training means we can tailor the content of this course and focus entirely towards the specific needs of your puppy.
Our 4-week private puppy course will cover all basic and essential commands as well as address any issues you may be struggling with, all through a positive reward approach.
Each week you'll receive a full hour training session at your home with our in-house DogDaddies trainer, with the 4th week at your local park. 
You can also opt for a single training session if you feel your puppy just needs some training on one specific issue.
Our aim is to help you discourage negative behaviour with positive rewards for good behaviour and we work as much with you, as with your puppy to help you bond and build a positive relationship.
"I've only used Dog Daddies 3 times so far - but they have totally transformed my little puppy! He was so shy and scared of going outside (would cry and want to be picked up) and same with being around other dogs, and then after just 2 DogDaddies daycare he now LOVES going outside and is so incredibly playful and happy around other dogs and puppies! I took him to the park the other day and all the other dog owners were commenting on how lucky I am to have such a happy and playful pup! Nothing makes me happier than seeing my pup settled and happy - it's the most wonderful thing to see! Thanks DogDaddies! x"

ATLANTA
Monti - Cocker Spaniel
book your puppy training course
If you think our puppy training course is right for you and your dog, or you simply have a question about the course please get in touch using the form below